Ásbrú-CM packages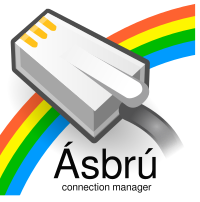 Dependency packages

This repository contains helper scripts to build packages required to run Ásbrú Connection Manager.
Contributing

If you want to contribute to Ásbrú Connection Manager, first check out the issues and see if your request is not listed yet. Issues and pull requests will be triaged and responded to as quickly as possible.

Before contributing, please review our contributing doc for info on how to make feature requests and bear in mind that we adhere to the Contributor Covenant code of conduct.
License

Ásbrú Connection Manager is licensed under the GNU General Public License version 3 http://www.gnu.org/licenses/gpl-3.0.html. A full copy of the license can be found in the LICENSE file.